These How To guides will show you step by step how to correctly measure for your new blinds. If you are unsure of anything, or would prefer to talk to somebody for advice, simply give us a call and we would be happy to talk you through the process.
Installation instructions can be found on the individual product pages.
MEASURING
When measuring your windows it is important to use a metal tape measure that you can read clearly and which measures to the nearest mm.
Do not use a cloth tape measure or a measure that is in inches and feet
Do not rely on measurements taken from house plans as they are generally not the finished window size.
Measure your window width in 3 places (top, middle and bottom) and note down the smallest of these 3 measurements as this is the measurement that will be used. Measure your window drop in 3 places (left, right and middle) and note down the smallest of these 3 measurements as this is the measurement that will be used.
Please see the diagrams below for where to measure for an Inside and Outside mounted Blind.
INSIDE MOUNTING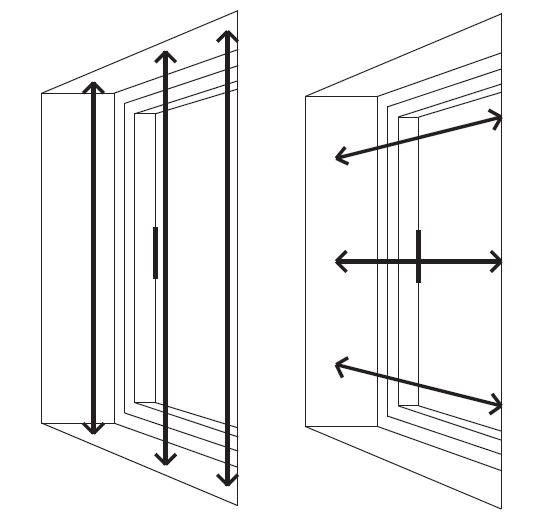 OUTSIDE MOUNTING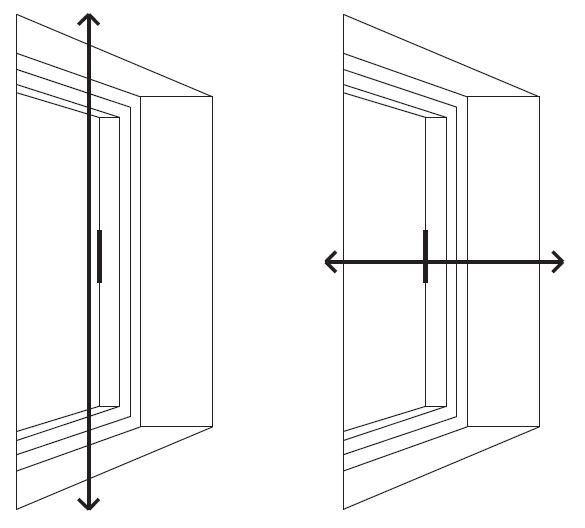 SLIDING DOORS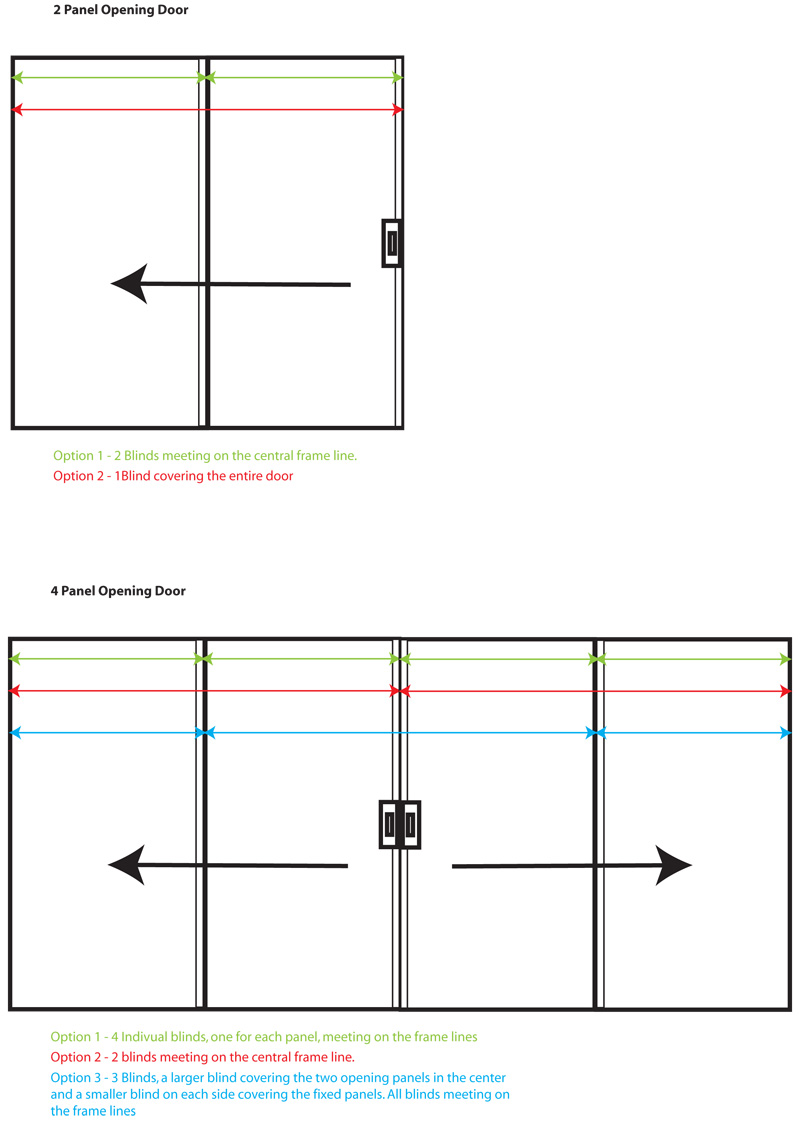 Whatever the size of your sliding door, WA Blinds suggests using individual blinds to cover each panel. Individual blinds are easier to use because they are smaller, lighter and offer more options for light control.
Before purchase, remember to work out where the controls for the blind will need to be, so that you don′t find that you have chains or cords hanging in the open doorway.
Measure your doors so that the blinds will meet in the middle of the frames, not at the edge of the panels. This means that the small gap where the blinds meet will be over the frames, not over the glass. This will maintain light blockout and privacy.
See the diagrams below for ideas on how to cover sliding door areas.
Panel Glides and Vertical blinds are an excellent option to cover sliding doors and you do not need to split the blind into smaller components. Make sure the blinds slide to the non-opening side so they don′t gather over the doorway.
CORNER WINDOWS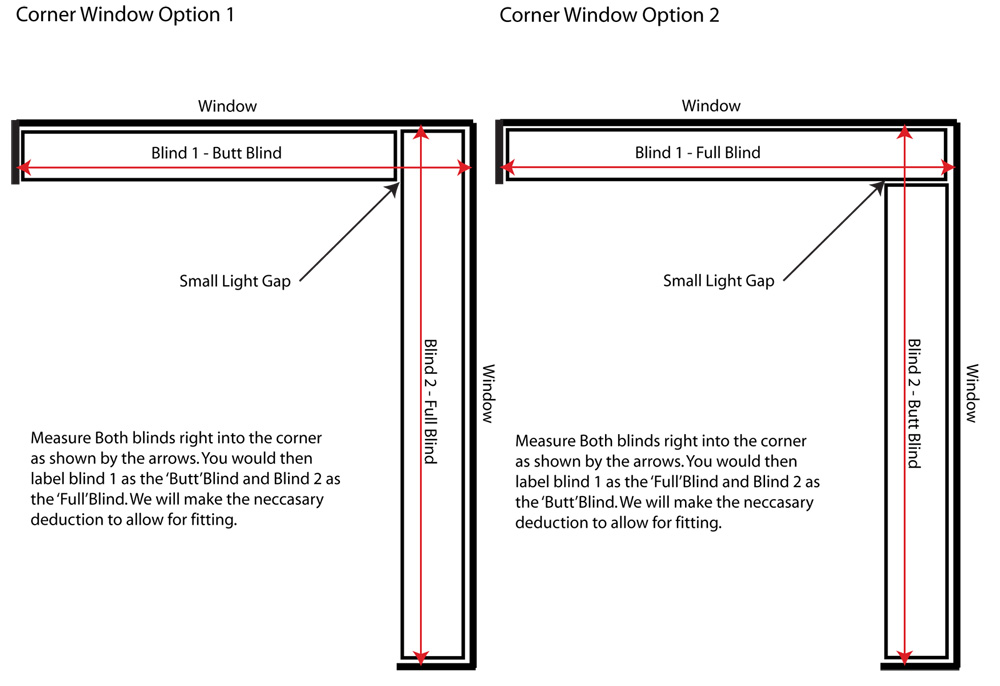 Measuring corner windows can be tricky, but if you follow these easy steps you will get great fitting blinds every time.
First you need to decide which blind will fit right into the corner (Full) and which blind will butt up against (Butt); this will determine where the small light gap will be. We recommend that you position the gap to minimise the amount of light coming in, or in a position that will be less obvious when entering your room. See the diagram to the left.
Once you have decided which blind will fit directly into the corner (Full) and which one will butt up against (Butt), simply measure both windows right into the corner without making any deductions
When ordering your blinds there is a field called Room: where you type your room name. For corner window ordering simply type the room name with either Butt or Full after it to show which blind will be fitting right into the corner and which blind will be butting up against. (For example if the corner window was in your kitchen, you would measure the width of both blinds right into the corner and then order one as 'Kitchen Full' and one as 'Kitchen Butt'.)
WA Blinds will make the necessary deductions from the Butt blind so that they fit neatly into the corner
If you have any questions about how to measure, you can call our 1800 number or email us anytime: info@wablinds.com.au.
MOUNTING
First decide if you want your blind to be inside the window recess or 'outside' on the face of the wall over the window. For inside mounted blinds measure the recess of your window as described above, WA Blinds will make your blind slightly smaller than this measurement so that it fits neatly within the recess. Hanging your blind this way means that it sits neatly within the recess.
For outside mounted blinds measure exactly where you wish the blind to sit once fitted. WA Blinds will not make any deductions from an outside measurement and you will receive a blind exactly at the size you requested. This method of hanging is popular for doors or windows where you may want to hide the frame, or where your window recess is too shallow to allow proper inside mounting.
MULTIPLE BLINDS ON A SINGLE WINDOW
If you can′t find a blind wide enough for your window, WA Blinds has the answer. A large window can be covered by using 2 equal size blinds that meet halfway across, or by splitting the blinds to match the frame of the window. This might mean using 3 or 4 blinds, but the advantage is that the small gap where the blinds meet is over the frame rather than the glass. This means that you maintain light blockout and privacy. Please see the diagram below.